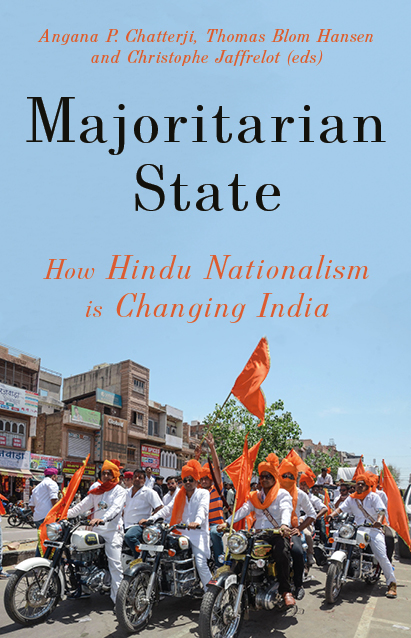 Majoritarian State
How Hindu Nationalism is Changing India
A trenchant assessment of Narendra Modi's BJP government and its impact on India.
Description
Majoritarian State traces the ascendance of Hindu nationalism in contemporary India. Led by Prime Minister Narendra Modi, the BJP administration has established an ethno-religious and populist style of rule since 2014. Its agenda is also pursued beyond the formal branches of government, as the new dispensation portrays conventional social hierarchies as intrinsic to Indian culture while condoning communal and caste- and gender-based violence.
The contributors explore how Hindutva ideology has permeated the state apparatus and formal institutions, and how Hindutva activists exert control over civil society via vigilante groups, cultural policing and violence. Groups and regions portrayed as 'enemies' of the Indian state are the losers in a new order promoting the interests of the urban middle class and business elites. As this majoritarian ideology pervades the media and public discourse, it also affects the judiciary, universities and cultural institutions, increasingly captured by Hindu nationalists. Dissent and difference silenced and debate increasingly sidelined as the press is muzzled or intimidated in the courts. Internationally, the BJP government has emphasised hard power and a fast- expanding security state.
This collection of essays offers rich empirical analysis and documentation to investigate the causes and consequences of the illiberal turn taken by the world's largest democracy.
Reviews
'[Majoritarian State is] a subversive resource in India's current political climate … thorough and compelling in its sharp critique of India's right-wing majoritarian politics and policies.' — Asian Affairs
'[Majoritarian State includes] contributions from some of the keenest and most perceptive scholars working on India today; most of the essays are thoughtful, and some are fresh and provocative.' — CHOICE

'When a majority claims sovereign authority to impose its will on the rest of society, democracy is threatened. The present volume, consisting of contributions from leading scholars of Indian politics, offers a comprehensive view of how the recent mobilization of Hindus as victims of minority appeasement is violently tearing apart communities and institutions. A valuable and timely contribution.' — Partha Chatterjee, Professor of Anthropology and Middle Eastern, South Asian, and African Studies at Columbia University
'Implicit in these comprehensive and well-documented essays are questions crucial to the perception of contemporary India and they reach out to current debates. Attempts to imprint a Hindu majoritarian identity on the state and on various aspects of the lives of citizens, bring about some contestations. These are analysed. The high-quality discussion of these provides a diagnosis, which in turn could suggest a prognosis for the India of post 2019. The book therefore is essential reading.' — Romila Thapar, Emeritus Professor of History at Jawaharlal Nehru University, New Delhi
Editor(s)
Angana P. Chatterji is Founding Co-chair of the Political Conflict, Gender and People's Rights Initiative and Visiting Research Anthropologist at the Center for Race and Gender at University of California, Berkeley. Her books include: Violent Gods: Hindu Nationalism in India's Present; and Conflicted Democracies and Gendered Violence (co-edited).
Thomas Blom Hansen is Reliance-Dhirubhai Ambani Professor in South Asian Studies and Professor and Chair of the Department of Anthropology at Stanford University. His books include: The Saffron Wave: Democracy and Hindu Nationalism in Modern India; and Melancholia of Freedom: Social Life in an Indian Township in South Africa.
Christophe Jaffrelot is Avantha Chair and Professor of Indian Politics and Sociology at the King's India Institute, and Research Lead for the Global Institutes, King's College London. He teaches at Sciences Po CERI, where he was director between 2000 and 2008.
Request an academic inspection copy
Request a press review copy