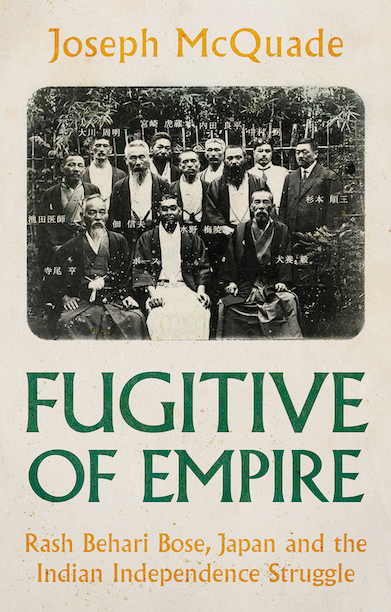 Fugitive of Empire
Rash Behari Bose, Japan and the Indian Independence Struggle
A lively biography of an important Indian revolutionary, from his attempted assassination of the Viceroy to his anti-imperialist activities in exile.
September 2023
9781805260424
336pp, 12pp colour illus
EU Customers
Description
In 1912, Rash Behari Bose made his dramatic entrance into India's anti-colonial freedom movement when he orchestrated a bomb attack against the British Viceroy during a public procession in Delhi. Forced to flee his homeland, Bose settled in Japan, becoming the most influential Indian in Tokyo and earning the affectionate title 'Sensei' among Japanese youth, military personnel and far-right ultranationalists. 
Throughout the 1920s and 1930s, Bose remained a perpetual thorn in the side of the British Empire as he built and maintained a global network of anti-colonialists, radicals, smugglers and intellectuals. After siding with Imperial Japan against his British adversaries during the Second World War, Bose died in 1945—just two years before India gained its independence. A complex, controversial and often contradictory figure, Bose has been described as a committed democrat, an authoritarian, an advocate of religious harmony, a Hindu chauvinist, an anti-Communist, a political pragmatist, an idealist, a Japanese collaborator, an anti-racist, a cultural conservative, a Pan-Asianist, an Indian nationalist, and much more besides.
Drawing on extensive archival research in India, Japan and the UK, this refreshing new biography brings to life the largely forgotten story of one of twentieth-century Asia's most daring revolutionaries.
Reviews
'Relocates Rash Behari Bose's place in modern Indian history.' — The Times of India 
'An intriguing account of a forgotten but significant figure in the annals of anticolonialism.' — Priyamvada Gopal, author of Insurgent Empire
'McQuade's meticulously researched biography of Rash Behari Bose reveals the multifaceted nature of anti-colonialism in the first half of the twentieth century. An original and captivating read, connecting waves of revolutionary movements, it fills a major gap in global historiography.' — Ole Birk Laursen, Researcher, Lund University, and author of Anarchy or Chaos: M. P. T. Acharya and the Indian Struggle for Freedom
'Rash Behari Bose is a key figure among Indian "expatriate patriots", and, like many of his contemporaries, defies easy political categorisation. Well-written, fast-paced, and filled with remarkable events, Fugitive of Empire is a compelling story.' — Carolien Stolte, Assistant Professor, University of Leiden, and author of The League Against Imperialism
'McQuade's evocative account of Rash Behari Bose reads like a novel, taking us through some of the most dramatic moments of India's struggle for independence and revealing the global dimensions of anti-colonialism during the first half of the twentieth century.' — Kim A. Wagner, Professor of Global and Imperial History, Queen Mary, University of London, and author of The Skull of Alum Bheg and Amritsar 1919
Author(s)
Joseph McQuade is a senior fellow at the Bill Graham Centre for Contemporary International History. A former postdoctoral fellow at the University of Toronto, he is the author of A Genealogy of Terrorism: Colonial Law and the Origins of an Idea. He completed his PhD at the University of Cambridge.
Request an academic inspection copy
Request a press review copy