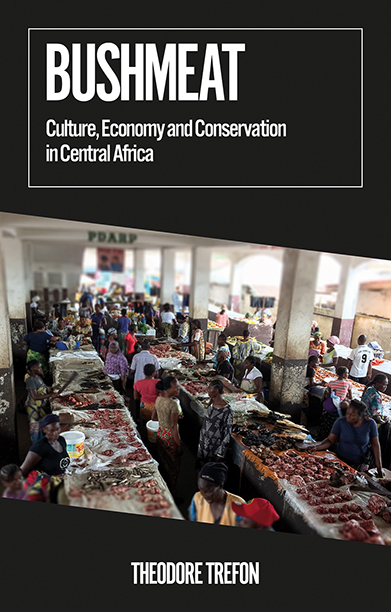 Bushmeat
Culture, Economy and Conservation in Central Africa
Part of the
African Arguments
series
A detailed investigation of the environmental, social and economic consequences of wild meat consumption in the Congo Basin.
March 2023
9781787388147
256pp
Available as an eBook
Available from Oxford Scholarship Online
EU Customers
Description
In much of Central Africa, eating wildlife is seen as a normal, desirable and common-sense practice. Almost all wild animals, from the largest mammals to the smallest invertebrates, are hunted, traded and consumed, providing vital income and nutrition for millions of people. But as demand for bushmeat grows, animal populations are being decimated, directly impacting biodiversity, local economies and public health.
Taking an interdisciplinary approach, Bushmeat explores questions ranging from deforestation and conservation strategies to infectious diseases, urban street food and law enforcement. It explains how the popularity of wild meat consumption has spread from rural areas into major cities, fuelled by rapid urbanisation, poorly defined regulations, and developing trade networks—whether small-scale and informal, or commercial and politically connected. While unsustainable hunting practices pose clear problems for wildlife conservation, they also increase the risk of rural food insecurity and of new infectious diseases emerging-as HIV, Ebola and Covid-19 have shown. But cultural attachment to wild meat, and its dietary importance for many communities, make the 'bushmeat crisis' difficult to solve.
Based on extensive interviews and a comprehensive review of secondary literature, Bushmeat presents a startling account of one of the Anthropocene's catastrophes in the making.
Reviews
'Everyone interested in people and wildlife should read this book. Every parliamentarian in the Congo Basin should read this book. Some may disagree with the author, but each of his chapters is excellent. Together they are a masterpiece.' — David Wilkie, Director of Conservation Measures, Wildlife Conservation Society
'In sub-Saharan Africa, bushmeat consumption is not only cultural; it's a survival issue. How to preserve biodiversity and prevent zoonotic risks, while fighting against hunger accentuated by climate change? These are the main questions that emerge from this timely, important book.' — Priscilla Omouendze Mouaragadja, Research Director, École Nationale des Eaux et Forêts (Gabon)
'A highly readable volume which I very much recommend. Without taking sides, Trefon skilfully tackles the issues surrounding wildlife conservation and use. This is an excellently written synopsis of one of the most important issues affecting biodiversity in today's world.' – Julia Fa, Professor of Biodiversity and Human Development, Manchester Metropolitan University
'An engaging and immersive history contributing valuable new information and insights from a variety of perspectives, particularly in its rich ethnographic account of the needs and values of local African populations.' — Jack Jenkins, Postdoctoral Research Associate, Department of Anthropology, Durham University
Author(s)
Theodore Trefon is a senior researcher at the Royal Museum for Central Africa, Belgium, and a lecturer at ERAIFT, Kinshasa. He obtained his PhD in African Politics from Boston University, and has devoted his career to studying environmental governance in the Democratic Republic of the Congo.
Request an academic inspection copy
Request a press review copy