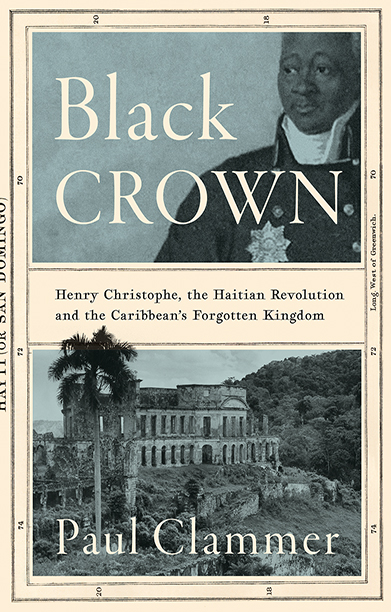 Black Crown
Henry Christophe, the Haitian Revolution and the Caribbean's Forgotten Kingdom
The epic story of a man born into Caribbean slavery, who defeated Napoleon's armies and crowned himself a free black king.
January 2023
9781787387799
392pp, 16pp colour illus
EU Customers
Description
How did a man born enslaved on a plantation triumph over Napoleon's invading troops and become king of the first free black nation in the Americas? This is the forgotten, remarkable story of Henry Christophe.
Christophe fought as a child soldier in the American War of Independence, before serving in the Haitian Revolution as one of Toussaint Louverture's top generals. Following Haitian independence, Christophe crowned himself King Henry I. His attempts to build a modern black state won the support of leading British abolitionists—but his ambition helped to plunge his country into civil war.
Christophe saw himself as an Enlightenment ruler, and his kingdom produced great literary works, epic fortresses and opulent palaces. He was a proud anti-imperialist and fought off French plots against him. Yet the Haitian people chafed under his authoritarian rule. Today, all that remains is Christophe's mountaintop Citadelle, Haiti's sole World Heritage site—a monument to a revolutionary black monarchy, in a world of empire and slavery.
Reviews
'With narrative verve and a deep understanding of the country's extraordinary past, Clammer opens a window on to the life and times of one of the most tragic figures of the francophone Antilles, le roi Christophe.' — The Spectator
'Black Crown grasps the essential tragedy of history, in all its ambiguity and contingency.' — The Telegraph
'Paul Clammer brings this extraordinary story to life in his deeply researched biography of Christophe, the first to appear in decades… a detailed and rewarding read.' — History Today
'An excellent record of many different aspects of Haiti's little-known history.' — Liberation
'An important contribution to Haiti's little-known history.' — Morning Star
'A great historical narrative that introduces the reader to an array of fascinating characters in an age of revolution.'  — Counterfire
'A rich story… important and well-written.' — The Zambia Daily Mail
'Meticulously researched and compellingly written, Black Crown is the biography of Henry Christophe we have been waiting for. Through Christophe's story, Clammer describes the country's transition from plantation colony to independent nation-state. Essential reading, not only for those interested in the history of Haiti but also for anyone seeking to understand the emergence of the modern Atlantic world.' — Charles Forsdick, co-author of Toussaint Louverture: A Black Jacobin in the Age of Revolutions
'The majesty of Haiti's foundations is reflected in the almost unreal story of King Henry Christophe. Bold, nationalistic, and unrelenting, Christophe long occupied outside imaginations that for a century subjected him to myth and ridicule. Black Crown is a major corrective to this: a carefully researched, beautifully written and deeply absorbing biography. It shines on every page with subtle insights on a story too little understood. Paul Clammer's triumph is to recover the man, his country, and his age, and present Haiti's proud black king in all his conflicting glory.' — Matthew J. Smith, Professor of History and Director of the Centre for the Study of the Legacies of British Slavery, University College of London
'This adds greatly to our growing understanding of the Haitian Revolution, its turbulent aftermath and the cutthroat politics of revolutionary Haiti. Clammer seems to have left no stone unturned in his research and brings a great deal to the table for both Haiti scholars and the general reader wishing to understand the reign of King Henry Christophe. Black Crown also represents another point of evidence for an interesting question–do you have to be a professional academic to write a great history book? Clearly not.' — Johnhenry Gonzalez, University of Cambridge, author of Maroon Nation: A History of Revolutionary Haiti
Author(s)
Paul Clammer is a freelance writer and the author of more than forty guidebooks for Lonely Planet, along with Bradt Travel Guides' Haiti, the only English-language guidebook to the country. He has been a regular traveller to Haiti since 2007, including a year living in Port-au-Prince.
Request an academic inspection copy
Request a press review copy