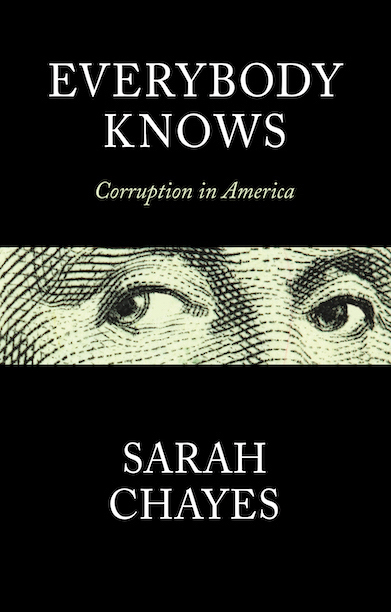 Everybody Knows
Corruption in America
Who pulls the strings in America?
Description
America is corrupted, and everybody knows it. Vested interests have bent government powers to serve themselves, not the citizens, with dizzying results—egregious Supreme Court rulings, revolving doors and cozy deals between the state and the private sector, and forty years of financial meltdowns.
In this blistering book, Sarah Chayes shows that today's corruption—even the venality of the Trump administration—is part of global history, going back to the invention of money itself. We're not dealing with 'bad apples' lining individual pockets, but the widespread standard practice of sophisticated networks spanning political and national boundaries. But we can change this, individually, collectively and politically.
Searching and unflinching, Everybody Knows exposes a rigged system that strangles democracy, calling on readers everywhere to challenge it.
Author
Sarah Chayes lived in Afghanistan for a decade and served as special assistant to the US chief of defense, Admiral Mike Mullen. For five years she researched corruption networks across the world at the Carnegie Endowment for International Peace. Her book Thieves of State won the Los Angeles Times Book Prize.
Reviews
'Sweeping and remarkably clear-eyed … Chayes's research dazzles. This intricate and impressive exposé will galvanise readers to take action.' — Publishers Weekly
'Few people know the methods and strategies of the corrupt like Sarah Chayes. After combating corruption in the developing world, she now takes aim at the United States, where conflicts of interest, bribery and collusion are not an anomaly but a commonplace reality. Every person concerned about corruption should read this book.' — Frederik Obermaier, investigative journalist and co-author of The Panama Papers
'Both right and left revile "the swamp", but Sarah Chayes is the first to provide a gripping and lucid—to say nothing of brave—account of how sophisticated self-dealing networks of every stripe are rigging the rules and poisoning our politics. If you want to save America, this might just be the most important book to read now.' — Nancy MacLean, author of Democracy in Chains
'Everybody Knows exposes America's dark secret hiding in plain sight: corruption. While the United States rightly lectures the world about the perils of corruption, Chayes explains how America's own corrupt practices have been legalised and normalised. An important book for understanding the pervasive rot of American corruption—and how to remove it.' — Brian Klaas, author of The Despot's Apprentice