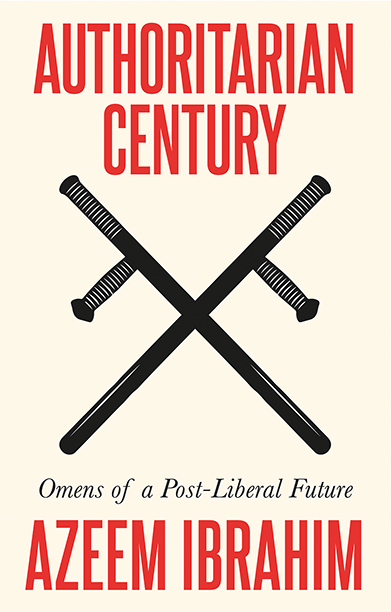 Authoritarian Century
Omens of a Post-Liberal Future
A new look at how global liberalism went wrong and how the West can turn the tide, challenging liberal fallacies and offering hope for tomorrow.
Description
Liberal democracy has produced the most freedom and security for the most people of any form of government in human history. For a while, and especially after the collapse of the Soviet Union, we believed that this would be enough. Yet, today, we face an anti-liberal backlash—and we bear much of the responsibility.
Western leaders learnt the wrong lesson from the Soviets' downfall, seeing it as an ideological victory and adopting a 'total liberalism' with the same rigidity that had just brought down communism. Now, the economic and foreign policy failures of neoliberalism have fatally undermined the public's faith in the associated political system, liberal democracy. Cue disaffected masses, opportunistic populists, canny Russian sabotage, and the Chinese model as a powerful alternative—where do we go from here?
From Tsarist conspiracy theories and Italian corruption to revolution in America, France and China, this book shows the roots of our century's descent into crisis. Exposing the critical mistakes of contemporary liberals, Azeem Ibrahim urges a rethink to renew liberal democracy, domestically and internationally. His incisive narrative of the West's recent past is sober and sobering; his vision for the future hopeful yet urgent—for only a liberal order can save vulnerable lives and confront global emergencies.
Reviews
'Ibrahim does not offer a silver bullet; he acknowledges liberalism's failings, looks for ways to reform and strengthen laws and democratic processes, and insists that only liberal values have the capacity to guide the world to a better future.' ­— Foreign Affairs
'Brilliantly spins the globe to tell us not only how we got here, but why, explaining the need for a truly international, forceful response. A masterful overview of our leaders today, and a must-read!' — Ravi Agrawal, Editor in Chief, Foreign Policy
'This thoughtful and articulate book could not be more timely. Liberal democracy needs its champions to speak out, and Ibrahim is doing just that.' — The Rt Hon. Sir Malcolm Rifkind KGMC KC, former UK Foreign Secretary
'A very important book—in an age of new competition, Ibrahim explains what is at stake and what democracies might do about it.' — Baroness Helena Kennedy KC FRSA HonFRSE, founding co-chair, Inter-Parliamentary Alliance on China, and author of Eve Was Framed
'Ibrahim is one of the world's most prominent commentators. Here he tackles some of the biggest problems facing the globe and, with his usual clarity, tells us some home truths.' — The Rt Hon. Baron Robertson of Port Ellen, 10th Secretary General of NATO and former UK Defence Secretary
'An essential book for understanding why democracies are in difficulty—and how to address the challenge posed by rising authoritarianism.' — Emma Sky OBE, founding director, International Leadership Center, Yale University, and author of The Unravelling
'We have taken the benefits of liberal democracy for granted. Ibrahim's uncomfortable and uncompromising book shows why it is in danger, and how we need to understand the authoritarian challenge so that we are better placed to resist it.' — Sir Lawrence Freedman KCMG CBE PC FBA, Emeritus Professor of War Studies, King's College London
'Ibrahim has translated his deep research and familiarity with democratic politics into a study of the authoritarian challenge. Readable, impressive and worrying.' — General Robert S. Spalding, former Senior Director for Strategic Planning, US National Security Council (2017–18)
Author(s)
Azeem Ibrahim is Research Professor at the Strategic Studies Institute, U.S. Army War College; Director at the Newlines Institute for Strategy and Policy; and a Foreign Policy columnist. His previous books are The Rohingyas: Inside Myanmar's Genocide and Radical Origins: Why We Are Losing the Battle Against Islamic Extremism.
Request an academic inspection copy
Request a press review copy