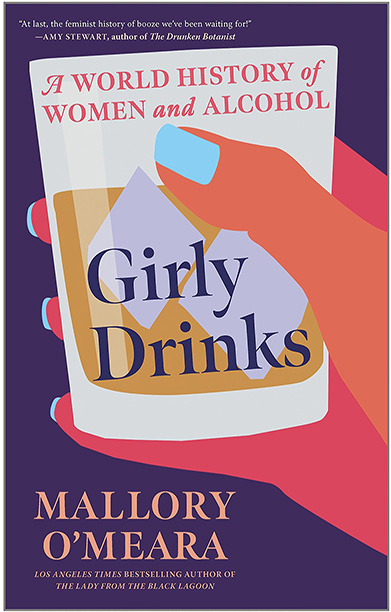 Girly Drinks
A World History of Women and Alcohol
From the ancient Sumerian beer goddess to Black South African micro-brewers today, a page-turning history of women and drink.
Winner of the 2022 James Beard Book Award
Nominated for the 2022 Spirited Awards
Selected as one of the 25 Best Cookbooks of 2022 in Delicious Magazine
Description
This is the forgotten history of women making, serving and drinking alcohol. Drink has always been at the centre of social rituals and cultures worldwide—and women have been at the heart of its production and consumption. So when did drinking become gendered? How have patriarchies tried to erase and exclude women from industries they've always led, and how have women fought back? And why are things from bars to whiskey considered 'masculine', when, without women, they might not exist?
With whip-smart insight and boundless curiosity, Girly Drinks unveils distillers, brewers, drinkers and bartenders with a vital role in the creation and consumption of alcohol, from Cleopatra, Catherine the Great and the real Veuve Clicquot to Chinese poets, medieval nuns and Prohibition bootleggers.
Mallory O'Meara's fun and fascinating history dismantles the long-standing myth that drink is a male tradition. Now, readers everywhere can discover each woman celebrated in this book—and proudly have what she's having.
Official Girly Drinks Playlist
Reviews
Mallory O'Meara discusses the unexpected history of women making (and drinking) alcohol – with author and beer journalist Melissa Cole:
A Guardian Best History and Politics Book of 2022 
'The history book that has made me laugh most this year. O'Meara takes readers on a wild ride from ancient Sumerian beer goddess Ninkasi, via 12th-century Chinese poet and boozehound Li Qingzhao, to the "Bahama Queen", gunslinging prohibition bootlegger Cleo Lythgoe. Written in a conversational style, this book feels like having cocktails with some of the most fascinating – and dangerous – women in history. Cheers!' — Alex von Tunzelmann, The Guardian, 'The Best History and Politics Books of 2022'
'This feminist history of alcohol . . . argues . . .  that making and consuming alcohol has always been women's business.' — The Sunday Times
'[An] intoxicating read.' — Delicious Magazine, 'The 25 Best Cookbooks of 2022'
'A raw shot of boozy history that stings as well as it soothes!' — Patton Oswalt
'A fascinating history.' — Buzzfeed
'[A] thorough, and thoroughly entertaining, history… Elegantly woven into each cheeky chapter is rigorous historical context… O'Meara glides easily from the 17th-century pulquerias of Mexico to the feminine 'fern bars' of the 1970s, making sure to not to forget the queen of girly drinks: the Cosmopolitan. Provoking both thought and laughter, this serves as bracing refreshment from a master textual mixologist.' –Publishers Weekly, starred review
'O'Meara is assiduous in the recovery of hidden histories … [Girly Drinks] restores the glass to every woman's hand.' — World of Fine Wine
'At last, the feminist history of booze we've been waiting for!' — Amy Stewart, author of The Drunken Botanist
'Feminist and very funny… O'Meara deftly blends in equal measures of social history, gossip, and solid research, and adds enjoyable footnotes… women have discovered, invented, advanced, championed, and celebrated alcohol.' — Booklist
'This is a book that should be on any beverage alcohol enthusiast's shelf.' — American Whiskey Magazine
'[In Girly Drinks] Mallory O'Meara… returns to the realm of historically overlooked women who did extremely cool sh*t with a feminist history of drinking through the ages.' — Lit Hub
'An insightful, entertaining feminist history of women and alcohol through the ages.' — USA Today
'With this lively book Mallory O'Meara has provided a real service, giving us not only a long-overdue new perspective on a great many familiar issues, but also raising all kinds of other issues that are unfamiliar and shouldn't be.' — David Wondrich, author of Imbibe
'Cheers to Mallory O'Meara and her serious yet seriously entertaining treatise on the history of gendered drinks. Girly Drinks will introduce you to queens and nuns, bootleggers and bartenders, telling their stories and proving the point that all drinks are girly drinks.' — Jeanette Hurt, author of Wisconsin Cocktails and Drink Like a Woman
Author(s)
Mallory O'Meara is a bestselling historian, co-host of the literary podcast Reading Glasses, and author of The Lady from the Black Lagoon, an award-winning cultural history of Hollywood monsters and the forgotten woman who designed them. Mallory lives in the mountains near Los Angeles. Bourbon is her drink of choice.
Request an academic inspection copy
Request a press review copy