It is widely known that advancing forward is far easier when swimming with the tide rather than against it – but tell that to a policy planner, and they are likely to argue otherwise. However, while reflecting on my days in the corridors of power, I realised that to keep our heads above water, swimming with the tide and thus enabling it to determine our course of action, was absolutely necessary. Consequently, my memoirs were decidedly and unflatteringly entitled Pakistan Adrift. As former director-general of the Pakistan Army's Military Intelligence (MI), and Inter-Services Intelligence (ISI), I have become well acquainted with India's relations with Pakistan, and so devoted a chapter to the country in my book. In this chapter, I conclude that India's Pakistan policy—status quo at all cost—was rational; not only because it was to its advantage, but also because the dynamic of change might get out of Indian hands.
In another book that I co-authored with A. S. Dulat, former chief of India's Research and Analysis Wing (RAW) and former special director of its Intelligence Bureau (IB), he argues that the status quo did not favour India because that had disillusioned the people in the disputed state of Kashmir, and advises his country to work with Pakistan to resolve the issue. Both of us also suggested a co-operative model to help manage unintended crises that may, have been precipitated by third parties, for example.
On the 5th August 2019, when Modi revoked the constitutional clauses that recognised Indian Held Kashmir's special status, the Prime Minister not only disrupted the status quo, but also alienated the Kashmiris beyond the point of redemption. Having spent most of his career in Kashmir, Dulat now fears that the level of violence would increase whenever the siege imposed by the Indian security forces – soon to enter its third month – was dissolved. Inevitably, this situation would involve Pakistan. Some of our people would go over to Kashmir to help the distressed population, and history would repeat itself yet again: the crisis would spill over onto our side, and may even escalate into an open war. More seriously, there would be further pressure placed on the government in Islamabad to stretch beyond its worn-out mantra of merely providing moral, political, and diplomatic support.
Indeed, the danger of a largescale war will be prevented because, it would run the risk of drifting into a conflict that no one wants. Despite this, I can still find some solace in the fact that the main thesis of Pakistan Adrift— an incremental approach brought more dividends than 'shock and awe'—can now be better defended. The problem is that the suggested concept, called piecemeal strategy, or salami tactics in colloquial language, would require all of the little steps to be accepted or tolerated as and when they were taken—and that required taking the people on board.
India and Pakistan have discussed Kashmir at times – but have always excluded the Kashmiris themselves from these conversations. Though this is clearly absurd, there is a good explanation for it. The majority of the Kashmiris were likely to opt for Independence—which is anathema to Pakistan, and especially unacceptable to India. In Pakistan Adrift, I reason that since the UN resolutions gave us the locus standi in this dispute, we must officially stand by them. However, as they provide limited choices—accession to India or Pakistan—our operational policy must accommodate the wishes of a large number of Kashmiris who prefer complete autonomy.
India, because of its many secessionist movements, was unlikely to accept such a settlement that could trigger a domino effect. Therefore, the country's reluctance to leave the decision to the will of the people was understandable. Paradoxically, at another level the incumbent government does like to follow a piecemeal course of action – not necessarily with the intention of winning people's support, but more because of its ideologues. After its constitutional coup d'état over the part of the disputed territory it controls, the Indian defence minister threatened to next liberate the Pakistani administered Kashmir. We now have reasons to suspect that the declared aim of Rashtriya Swayamsevak Sangh (RSS), the spiritual fountainhead of the party in power, to undo the partition of the subcontinent, must be taken seriously. The choice that Islamabad has to make is when and where to stop this juggernaut—while the people in Indian-controlled Kashmir are still resisting the loss of their symbolic autonomy, or after they have been subdued.
---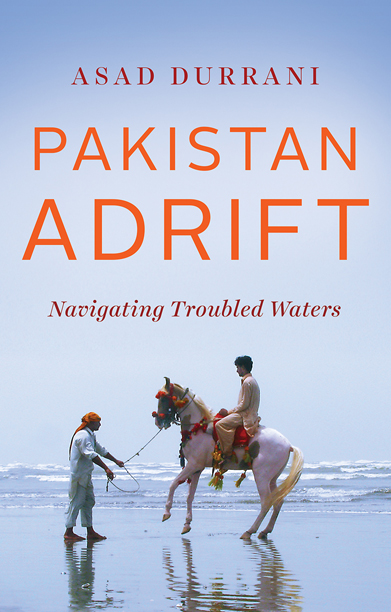 by Asad Durrani
Hardback | October 2018 | £25.00 | 9781849049610 | 280pp
---