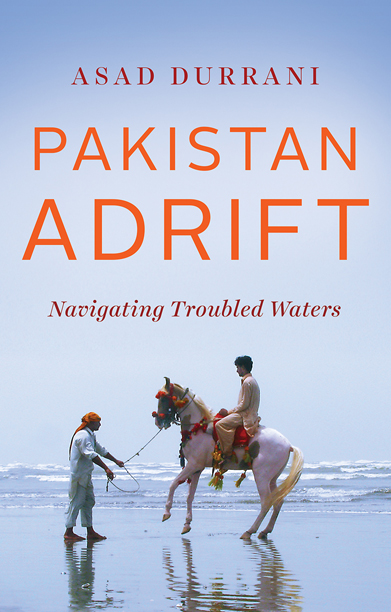 Pakistan Adrift
Navigating Troubled Waters
An insider's view of Pakistan's vicissitudes over the last two decades, by the former head of the country's renowned intelligence agency.
Description
Asad Durrani served as a three star general in the Pakistan army, and later headed the Inter-Services Intelligence agency from 1990 to 1992. His time in service encompassed the Soviet Union's withdrawal from Afghanistan and dissolution; shifting regional and international alliances, particularly with the US; and contending with India's economic recovery. On the home front, Pakistan passed through a transition from military rule to a democratic order.
As an intelligence chief General Durrani dealt with many critical issues at home and abroad. Here he reflects on his time in office—refined by distance and by diplomatic stints in Germany and Saudi Arabia, his assessment of the challenges faced by Pakistan in the last decades is both novel and informed. Though critical of the country's civil and military leadership—also conceding some of his own flaws—he argues that the real causes of Pakistan's travails differ from what international observers have come to believe.
This insightful book concludes by offering new perspectives on Saudi involvement in and reaction to 9/11 and on the Kingdom's shifting foreign policy goals following the 2003 invasion of Iraq.
Reviews
'Author, diplomat, soldier, spy: Lieutenant General Asad Durrani has been it all. This is an unprecedented memoir – the first by a Director-General of the ISI – providing an outstanding and candid insight into the political intrigues of Pakistan and the region.'—A.S. Dulat, former Chief of RAW, India
'A fascinating and courageous account of contemporary Pakistan packed with rare insights.'—Happymon Jacob, Associate Professor of Disarmament and Diplomacy, Jawaharlal Nehru University
'A deep insight into Pakistan's political power game. Highly recommended.'— Zahid Hussain, author of Frontline Pakistan: The Struggle with Militant Islam
'With dry wit, Asad Durrani provides an illuminating glimpse into the world of Pakistan's "establishment". The insight that much bloodshed can result from petty human interactions at the highest levels is well worth pondering.'—Barnett Rubin, Associate Director of the Centre of International Cooperation, New York University
'Durrani's combination of memoir and reflection is among the most important works to have emerged from the Pakistani Army since independence. Its dry wit and wealth of anecdote also make it a pleasure to read.' — Anatol Lieven, author of Pakistan: A Hard Country
Author(s)
Asad Durrani is a retired lieutenant general from Pakistan, and former head of the ISI.After retirement he was his country's ambassador to Germany and to Saudi Arabia. A veteran of two wars with India, he now writes and lectures.
Request an academic inspection copy
Request a press review copy