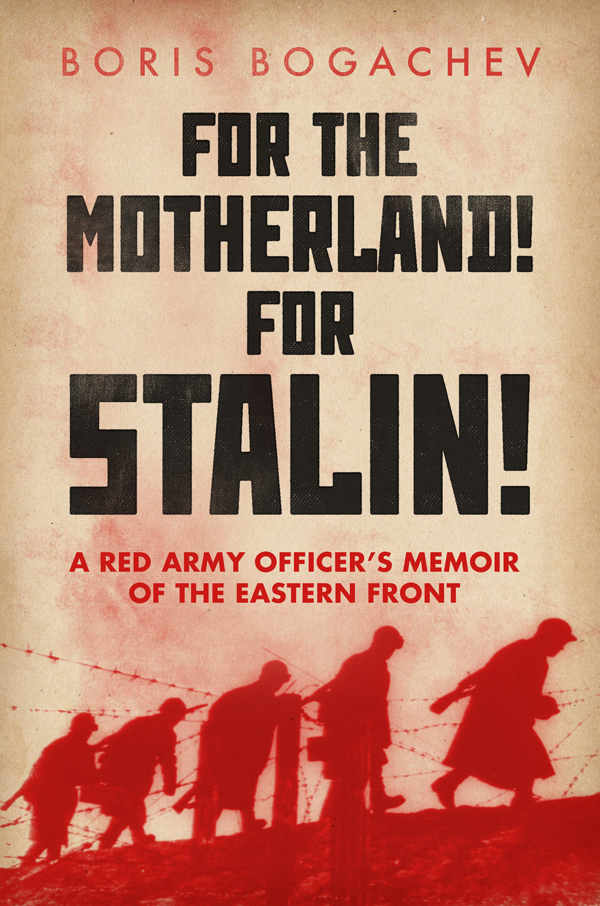 For the Motherland! For Stalin!
A Red Army Officer's Memoir of the Eastern Front
Translated by Maria Bogacheva
An absorbingly frank portrait of a Red Army officer's hellish yet heroic experience on the Eastern Front, and of the wide gap between ideology and reality in Stalinist Russia.
Description
For the Motherland! is an absorbingly frank portrait of a Red Army officer's hellish yet heroic experience on the Eastern Front, and of the wide gap between ideology and reality in Stalinist Russia.
Determined and resourceful, Boris Bogachev enlisted as soon as he turned seventeen. Life in the Red Army was harsh, with food shortages, inadequate equipment and fear—of the well-armed and formidably well trained Wehrmacht, but also of the trigger-happy NKVD political commissars at his back. Bogachev fought in many campaigns. He was wounded three times, and faced execution three times.
Bogachev retired in 1985, a much-decorated colonel, but was also involved as a military lawyer in rehabilitating the victims of the Great Terror. His vivid memoir of life as a young officer in the Great Patriotic War is both a riveting tale of hardship and courage and an invaluable historical account.
Table of contents
Author's preface
1941 1. Evacuation to Gumyonka
2. Joining the Army 1942
3. Training in Bukhara
4. To the Kalinin Front
5. The Front near Rzhev
6. My First Battle
7. The First Wound
8. My Thoughts on Rzhev
9. The Mortar Regiment at Vyshny Volochyok
1943
10. The North-Western Front near Kholm
11. The Second Wound
12. In the Rear in Tashkent 1944
13. How I joined the Sappers
14. Advancing into Poland
15. The Battle of Gorokhov
16. The Vistula Operation
17. Sandomierz
18. In the Rear in Poland 1945
19. Mine-laying in Poland
20. A Tank Rider of the 1st Ukrainian Front
21. The Advance into Germany
22. Soldier Sidametov
23. The End is Near
24. VICTORY!
25. Victory in Moscow – Nina's Story
26. After the War
27. My Illegal Trip to Austria 1946
28. The Elections to the Supreme Soviet
29. The Military Law Academy
Appendix I: Tank Crew Vladimir Khlitsov
Appendix II: Hurray for Dogs!
Appendix III: The Heroes of the 16th Assault Rava Russkaya Brigade
Appendix IV: Soviet and Russian Expansionism
Reviews
'A valuable document … unusually candid and humane.' — The Sunday Telegraph
'This remarkably honest memoir. . . shows in exemplary ways the extent to which rule breaking and the outright refusal to obey orders were endemic necessities in this war. . . Bogachev died in 2015. He hoped that his memoirs would be "of interest for those researching our complicated lives in the future". They are, indeed – and not only to researchers. Their translation into English also provide an incredible resource for anybody teaching this war in the English-speaking world.' — European History Quarterly
'Like its ironic title, For the Motherland! is a subtle, thoughtful account of an ingenuous young Russian-Ukrainian on the Eastern Front. Bogachev avoids the conventional portrayals of Red Army soldiers as either grunting subhumans or square-jawed supermen, describing his comrades humanely, yet unromantically—as very ordinary people living through hell.' — Owen Hatherley, author of Landscapes of Communism and The Ministry of Nostalgia
'This informative, poignant memoir of a man who went straight from school into battle is a must-read for anyone interested in the horrors and pities of war, particularly on the brutal Eastern Front. Bogachev's story is harrowing in places, but his humility and humanity make it impossible to put down.' — Jonathan Smele, Senior Lecturer in Modern European History, Queen Mary University of London and author of The "Russian" Civil Wars
'Raw, eyewitness testimony to the callous incompetence of the Soviet regime, which squandered hundreds of thousands of its citizens' lives in the battles of World War II.' — Arch Tait, translator of Ivan Chistyakov's The Diary of a Gulag Prison Guard
'A candid and powerful account of life in the Red Army. Bogachev, a serving junior officer throughout World War II, was a front-line artilleryman and engineer for two extended periods. His memoirs offer vivid descriptions of combat and unique insights into the attitudes of both fighting men and post-war veterans.' — Evan Mawdsley, Honorary Professorial Research Fellow, University of Glasgow, and author of Thunder in the East: The Nazi-Soviet War
Author(s)
Boris Bogachev (1924-2015) was born in Penza, Russia. He was a teenager living in Odessa when Germany invaded the USSR in 1941. He joined the Red Army as a junior lieutenant, and was wounded three times. Later he trained as a military lawyer and was involved in the rehabilitation of Stalin's victims. He served as a judge on military tribunals before retiring in 1985.
Request an academic inspection copy
Request a press review copy