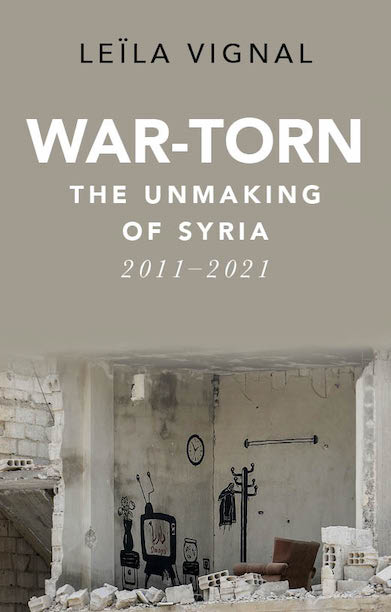 War-Torn
The Unmaking of Syria, 2011–2021
To see Syria's future in the Middle East, we must analyse its destruction: not just the physical rubble, but the social, economic and geographic collapse.
Description
Syria as we knew it does not exist anymore. However, all conflicts change countries and their societies. Such an obvious statement needs to be unpacked in specific relation to Syria. What has happened, what does it mean, and what comes next?
 In order to consider the future of Syria, it is crucial to assess not only what has been destroyed, but also how it was destroyed. It is equally vital to address the structural and possibly enduring results of large-scale destruction and displacement. These dynamics are not only at play in Syrian society, but are tearing at the economic fabric and very territorial integrity of the country. If war is a powerful process of human and material destruction, it is equally a powerful process of spatial, social and economic reconfiguration. Nor does it stop at national borders—the unravelling of Syria, and of the idea of Syria, has affected and will continue to affect the entire Middle East.
War-Torn explores these transformations and the processes that fuel them. It is an indispensable account throwing light on neglected aspects of the Syrian war, and a much-needed contribution to our understanding of conflicts in the twenty-first century.
Reviews
'An ambitious, original and impeccably documented vision of the Syrian disaster. Vignal's command of her topic is impressive; her empathy, and the clarity of her research, set War-Torn apart from previous works on the Syrian crisis.' — Jean-Pierre Filiu, Professor of Middle East Studies, Sciences Po, Paris School of International Affairs
'An interesting, innovative project advancing original arguments about Syria's transformations since 2011. Vignal is a clear, concise writer with intimate knowledge of the country. Her book is an important contribution to our understanding of contemporary Syria.' — Marwa Daoudy, Seif Ghobash Chair in Arab Studies, Georgetown University, and author of The Origins of the Syrian Conflict
'The festering war in Syria is the most brutal tragedy of our time. Leïla Vignal spells it out in all its horrific details: the revolution, its suppression and fragmentation; the destruction, displacement and economic collapse; and the plans for discriminatory reconstruction.' — Nasser Rabbat, Aga Khan Professor of Islamic Architecture, MIT
Author(s)
Leïla Vignal is Professor of Geography at the École normale supérieure, Paris, and the editor of The Transnational Middle East: People, Places, Borders. Specialised in cities, globalisation and transnational dynamics in the Middle East, since 2011 she has studied the transformations of Syria and of its society through the war.
Request an academic inspection copy
Request a press review copy