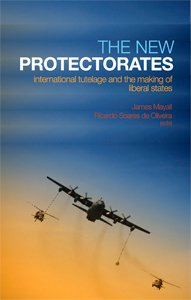 The New Protectorates
International Tutelage and the Making of Liberal States
Description
German troops fighting the Taliban in the Hindu Kush; EU judges sitting in courts in the Balkans; UN viceroys governing parts of Oceania; American occupation of the Middle East. Amid the myriad political experiences of the post-Cold War era, the historians of the future are likely to pay particular attention to attempts by outsiders to administer a host of post-conflict societies, to perform physical and social reconstruction, to establish functioning institutions, to open economies and, ultimately, to transform the 'maladjusted' political cultures of Africa, Asia and the Middle East.  Few developments in the two decades after 1989 were as revealing of the character of the international system, of the gaps between liberal discourse and practice, and of the fleeting nature of the Western hegemonic moment.
What made the new protectorates possible? What were they like as an actual political experience? How contradictory was their reception? Why was the process of governing others for their own good so flawed and why were the outcomes so disappointing? These are among the questions addressed by some of the leading authorities in the field, including James Mayall, Ricardo Soares de Oliveira, Stefan Halper, Christopher Clapham, Mats Berdal and Richard Caplan.
Author
James Mayall, FBA, is Emeritus Sir Patrick Sheehy Professor of International Relations, and Fellow of Sidney Sussex College, Cambridge University.
Ricardo Soares de Oliveira is Associate Professor in Comparative Politics, University of Oxford, fellow of St Peter's College, Oxford, and fellow of the Global Public Policy Institute, Berlin. He is the author of Oil and Politics in the Gulf of Guinea and co-editor of China Returns to Africa, both of which are published by Hurst.
Reviews
'The editors turn a critical eye on the role of external actors in post-war societies. […] Both optimistic and skeptical readers will find evidence to suit their arguments in this important volume; but the balance of evidence will better suit the pessimists. Practitioners would do well to read it closely.' – Bruce Jones, Director and Senior Fellow of the Center on International Cooperation, NYU and Senior Fellow and Director of the Managing Global Insecurity Program at the Brookings Institution
'This is a valuable, timely and authoritative examination  of the causes and failures of western-led humanitarian interventionism in the post-Cold War period. The authors conclude that if nation-building on the lines of a liberal state, politically free and economically open,  was impossible in Bosnia and Kosovo in Europe, it was even more unlikely to be viable, let alone to be perceived as legitimate,  in Iraq, Afghanistan or Libya.' – Krishnan Srinivasan, former Foreign Secretary, Government of India and Deputy Secretary General of the  Commonwealth
'This is a fascinating and insightful collection of essays from a distinguished set of authors. It examines the international trusteeship of troubled territories from a wide and complimentary set of angles: historical and contemporary, tactical and strategic, theoretical and practical.' – Iain King, co-author, Peace at any Price: How the World Failed Kosovo
'The book starts off with a superb introduction by the editors, offering a clear and insightful perspective on the motivations for the enterprise of international governance and liberal statebuilding and the gaps between discourse and practice.  … [It] then proceeds in two main parts, outlining firstly the historical context and reception of the new protectorates (chapters one to seven) and subsequently their governance (chapters eight to fourteen). The chapters are crisp and refreshing in style, while providing excellent and succinct summaries. Each of them is a real addition to the literature … an essential read for students, academics and policy-makers engaged in international security, and ought to be on any such reading list.' — International Affairs
'The New Protectorates is an invaluable academic contribution that is certain to appeal to those interested in contemporary debates on the challenges of external actions (usually Western driven) in post-conflict societies.' — Fernando Cavalcante, Political Studies Review