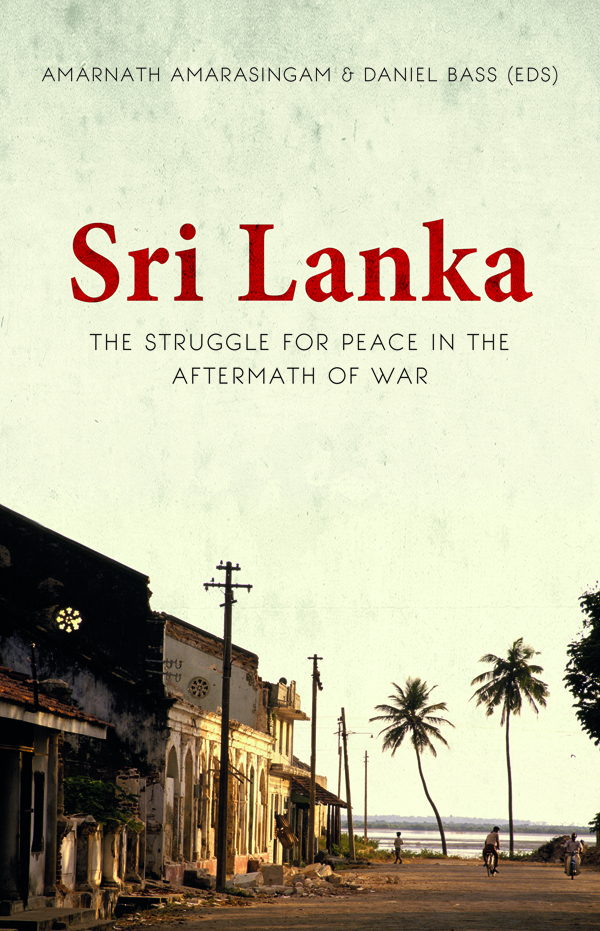 Sri Lanka
The Struggle for Peace in the Aftermath of War
This collection brings together a diverse array of scholars to analyse the issues and points of tension that have marked Sri Lanka's uncertain peace.
Description
Even though Sri Lanka's protracted civil war came to a bloody conclusion in May 2009, prospects for a sustainable peace remain uncertain. The Sri Lankan army is no longer waging military campaigns and the separatist Liberation Tigers of Tamil Eelam (LTTE) are no longer carrying out political assassinations and suicide attacks, yet structural violence continues, and has arguably intensified since the war's end. Anti-Tamil discrimination, anti-Muslim violence, and Sinhala Buddhist majoritarianism all increased in the war's aftermath, as President Mahinda Rajapakse's government invoked its military victory over the LTTE to silence any opposition. The election of Maithripala Sirisena as president in January 2015 began to alleviate some of the worst of these post-war abuses of power, but many long-term problems will take longer to solve.
This book brings together scholars in the fields of anthropology, sociology, history, law, religious studies and diaspora studies to critically engage issues such as post-war development, constitutional reform, ethnic and religious identity, transnational activism, and transitional justice. Through an interdisciplinary approach to post-war Sri Lanka, this volume examines the intractable and complex issues that continue to plague this war-torn island.
Table of contents
Introduction: Problems and Prospects for Post-war Sri Lanka by Daniel Bass and Amarnath Amarasingam
Part I: Social and Legal Complexities
Chapter 1 – Violence, Memory, and the Politics of Reconciliation in Sri Lanka by Malathi de Alwis
Chapter 2 – Threat Image Construction and the Implication for Peace Communication in Sri Lanka by Senthan Selvarajah
Chapter 3 – The Sri Lankan Conception of the Unitary State: Theory, Practice and Historiography by Asanga Welikala
Chapter 4 – Looking for "Justice" in all the Wrong Places: Creating an International or Hybrid Criminal Tribunal for Sri Lanka? By Sujith Xavier
Chapter 5 – The Politics of the Discourse on Post-War Reconciliation in Sri Lanka: Some Preliminary Notes by Kumaravadivel Guruparan
Part II: Majoritarianism and Minority/National Politics
Chapter 6 – Buddhism in Sri Lanka: Post-War Militancy of Sinhala Sangha by Suren Raghavan
Chapter 7 – Minorities in the Post-War Context: The Case of the Muslims of Sri Lanka by Farzana Haniffa
Chapter 8 – Incomplete Integration: Local Government, Citizenship and Tamil Identity in the Upcountry by Daniel Bass
Chapter 9 – "What Can We Say?" Some Preliminary Thoughts Regarding the Epistemology of Feeling and Saying among Sri Lankan Tamils in Postwar Sri Lanka and in Diaspora by Mark Whitaker
Chapter 10 – Critical Reflections on the Tamil Struggle and the National Question after Mullivaikal by Ravi Vaitheespara
Chapter 11 – Post-War Sri Lanka and the "Big Bad" Diaspora: Sprinkling Some Nuance into the Conversation by Amarnath Amarasingam
Reviews
'This collected volume captures through eleven engaging essays the key challenges facing post-war Sri Lanka, stymieing the nation's tryst with a more democratic destiny. The contributors traverse the complex, often treacherous terrains of constitutional reform and reconciliation to identity and hope to offer original insight into what is often acknowledged, and also rarely observed. One hopes this wealth of content is also urgently communicated to policymakers too, lest we are destined to repeat history.' — Sanjana Hattotuwa, Senior Researcher at the Centre for Policy Alternatives, Colombo, Sri Lanka
'In the past decade Sri Lanka has seen first the end of a long and bitter civil war, followed by what seemed an inexorable slide into increasingly authoritarian rule. The dramatic change of government in early 2015 raises new questions about the possible direction of post-war change. This important volume begins to provide answers to the most pressing of these questions.' — Jonathan Spencer, Professor of Anthropology at the University of Edinburgh and author of Anthropology, Politics and the State: Democracy and Violence in South Asia 
Editor(s)
Amarnath Amarasingam is a postdoctoral fellow at the University of Waterloo and the author of Pain, Pride, and Politics: Social Movement Activism and the Sri Lankan Tamil Diaspora in Canada.
Daniel Bass is South Asia Program Manager at Cornell University and the author of Everyday Ethnicity in Sri Lanka: Up-country Tamil Identity Politics.
Request an academic inspection copy
Request a press review copy