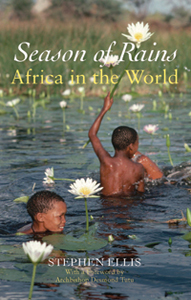 Season of Rains
Africa in the World
'Nuanced and challenging … Ellis' book will not please readers looking for a simple takeaway of straightforward policy recommendations, but his in-depth knowledge makes it essential reading for anyone seeking to understand Africa's evolution.' — Foreign Affairs
Description
Most of what is written about Africa is framed in terms that have been out of date for years.  Too often it is seen as heading for either disaster or salvation; the realities are more subtle, more complicated than this binary opposition suggests.
The continent has over the last century experienced the fastest population growth in the entire history of our planet. This brings pressures environmental and human, but it also changes the logic of Africa's economics.  It suggests reasons for hope. Thanks to mobile phones, African retail markets are now becoming integrated; in South Africa, Nigeria and elsewhere, banking is penetrating society; foreign direct investment is higher than ever before.  And Africa has 80 per cent of the world's empty agricultural land, which foreigners covet.
Season of Rains explains how one billion Africans are changing their continent and changing the world.  Stephen Ellis dissects how the postcolonial legacy has been overcome, how Africans are seizing the commercial and political initiative, and why this matters. In a series of short, punchily written chapters, Ellis surveys the continent today, offering the reader an indispensable guide to how money, power, religion and indigenous development will shape Africa's coming generations.
Reviews
'The timing of [Season of Rains], named after a Cameroonian poem about forecasting the harvest at the first rains, is impeccable. Its publication follows a rash of research celebrating the prospects of an African economic renaissance in years to  come, while a combination of global and local circumstances has pushed the continent back up the agenda for the global investment community. … Yet this growing literature on what some like to term a new scramble for Africa, referring back to the colonial carve-up that took place in the 19th century, is often one-dimensional. That is not an accusation that can be levelled at Ellis, who in a succinct 170 pages captures the broad spectrum of political, economic and social foundations that make Africa what it is today.' — Financial Times
'[Stephen Ellis'] short book—just six chapters—is calmly analytical rather than alarming or predictive. … He has an eye for inverting widely held beliefs.' — Richard Dowden in the Wall Street Journal
'Although this tome is succinct, at only 170 pages, Ellis convincingly deconstructs postcolonial pessimism that the region is a lost cause.' — The National
'Nuanced and challenging … Ellis' book will not please readers looking for a simple takeaway of straightforward policy recommendations, but his in-depth knowledge makes it essential reading for anyone seeking to understand Africa's evolution.' — Foreign Affairs
'This book is a lucid and brief analysis of Africa in the world. It is a subversive masterpiece, undermining stereotypes of and about Africans. Everyone interested in Africa should read it to give their assumptions an invigorating cold shower and to modify their own policies.' — Sir Edward Clay, former British High Commissioner to Kenya, for the Royal African Society
'Season of Rains brilliantly succeeds in its goal of providing a succinct introduction to a continent which is all too often conceived by external observers in stereotypes inherited from the post-colonial period, or indeed much further back in the history of "the dark continent".' — International Affairs
'An outstanding, original and provocative work. … The breadth of Season of Rains is extremely impressive. … its greatest strength is the way it manages to convey a sense of both continuity and change. …  a considerable achievement'. — Dr Daniel Branch, University of Warwick
'Season of Rains situates 'Africa in the world' and maps a shrewd course for Western engagement with its challenges. … The sum effect is a provocative re-evaluation of Africa's past and present trajectory. … This work is powerful, nuanced and engaging. Its judicious treatment of state formation consolidates recent scholarly advances, and provides a blueprint for future study of modernity and development in Africa. A terse drawing-together of on-going social, economic and political change, Season of Rains is an exhortation for fresh thinking from which all readers will benefit.' — Journal of Modern African Studies
'Season of Rains investigates and enriches the intellectual, political and cultural approaches to the African continent, giving substance and structures and offering body to policy-making… in vibrant style, Ellis brings the individual and the global, the personal and the structural, the pre-colonial and the aftermath of the "true postcolonial age" together.' — The Round Table
Author(s)
Stephen Ellis was Desmond Tutu Professor at the Faculty of Social Sciences at the VU University, Amsterdamand a senior researcher at the African Studies Centre, Leiden. He wrote groundbreaking books on the ANC, the Liberian Civil War, religion and politics in Africa, and the history of Madagascar.
Request an academic inspection copy
Request a press review copy