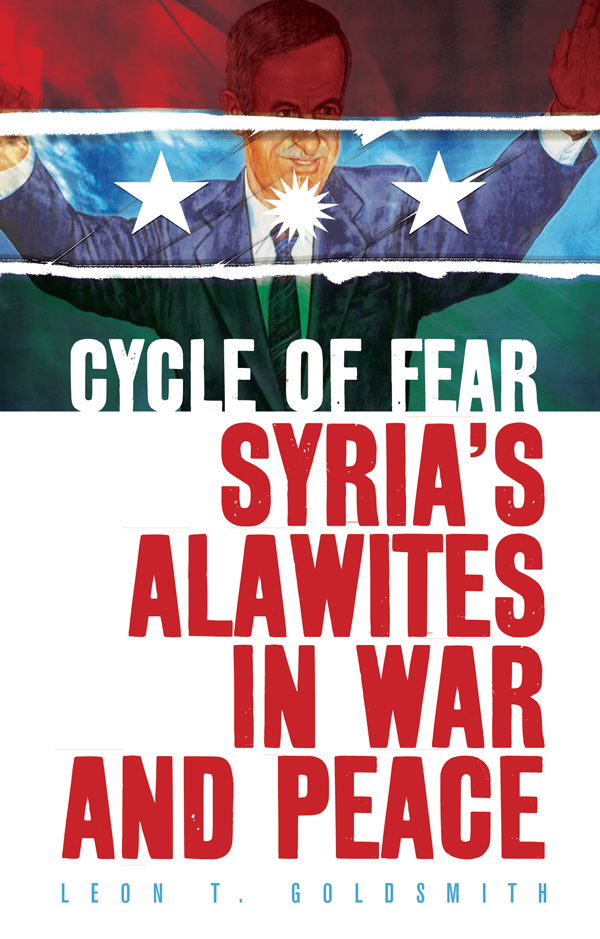 Cycle of Fear
Syria's Alawites in War and Peace
Goldsmith examines how sectarian insecurity obstructs the emergence of genuine political pluralism in the Middle East, taking Syria's Alawites under the Assad dynasty as an example.
Description
In early 2011 an elderly Alawite shaykh lamented the long history of 'oppression and aggression' against his people. Against such collective memories the Syrian uprising was viewed by many Alawites, and observers, as a revanchist Sunni Muslim movement and the gravest threat yet to the unorthodox Shi'ah sub-sect. This explained why the Alawites largely remained loyal to the Ba'athist regime of Bashar al-Assad.
But was Alawite history really a constant tale of oppression and the Syrian uprising of 2011 an existential threat to the Alawites? This book surveys Alawite history from the sect's inception in Abbasid Iraq up to the start of the uprising in 2011. Goldsmith shows how Alawite identity and political behaviour have been shaped by a cycle of insecurity that has prevented the group from achieving either genuine social integration or long term security. Rather than being the gravest threat yet to the sect, the Syrian uprising, in the context of the Arab Spring, was quite possibly a historic opportunity for the Alawites finally to break free from their cycle of fear.
Author
Leon T. Goldsmith teaches in the Department of Political Science, Sultan Qaboos University, Muscat, Oman.
Table of Contents
Introduction
1. IBN KHALDUN'S 'ASABIYYA AND THE CYCLE OF FEAR
A Definition of 'Asabiyya and its Sectarian Dimension
How a Group Develops High 'Asabiyya
The Nature and Influence of a Group with High 'Asabiyya
How a Dynasty Maintains 'Asabiyya
Variables for the Success of a Dynasty
How a Group's 'Asabiyya Declines
2. ORIGINS
Foundations of the Sect
Golden Period
Becoming Ibna' al-Jabal (Sons of the Mountain)
Fatwas and Officialdom
Ottoman Rule: Continued Alawite Marginalization
3. INTEGRATION
Saving Alawite 'Souls'
New Horizons
Resistance and Receptivity
Artificial Integration
Genuine Integration?
Independent Syria and the 'Problem' of Pluralism
Suspicions of Sectarianism
Alawites Ascendant
4. APOGEE & DECLINE
Early Asad Rule
The Muslim Brotherhood Rebellion
The Hama Tragedy
The Spoils of Power
Struggle for the Asad Dynasty
The Alawite-Iranian Axis
Preparing for Succession
5. RAPID DESCENT
A Modernising Reformer?
New Challenges
Losing Lebanon
Regime Consolidation and Isolation
Alawite Socio-Economic Conditions under Bashar al-Asad
The 'Precarious' Security of the Lebanese Alawites
6. RUMBLINGS OF REVOLUTION
Regime Restoration
Elite Infighting
A Confident Bashar al-Asad
Rising Internal Challenges
A Rising Islamic Tide?
Integration at Last?
List of Tables
Reviews
'Goldsmith does not see [the Alawites'] loyalty as given. He sets out to explain it by examining their history. … Goldsmith shows that years of persecution since the sect's founding have taught its adherents to stick together, and, as things have grown worse, to the regime. … a welcome addition to scholarship on Syria.' — The Economist
'[A] timely account about hitherto little-known but influential communities' – Asian Affairs
'Cycle of Fear is based on an impressive amount of field research as well as interviews with hard-to-reach leading Alawite figures inside Syria and elsewhere. Goldsmith does a good job of unmasking much of the mystery surrounding this sect and places within its historical context the twentieth century rise of the Alawites and the decision by most Alawites in the current conflict to stick with the Assad regime. I highly recommend it.' — David W. Lesch, Ewing Halsell Distinguished Professor of Middle East History at Trinity University in San Antonio, Texas, and author of Syria: The Fall of the House of Assad
'Leon Goldsmith makes a timely argument about the Alawite community that has provided the main pillar of support for Assad's rule in Syria. He explains how the minority complex of this small but powerful sect has been shaped by centuries of persecution. Their internal solidarity and fear of the Sunni majority, Goldsmith argues, has convinced them that their present struggle is a matter of life and death. This brief and engaging interpretive essay helps us to understand the cycle of fear that grips all religious communities in Syria today and makes the civil war so intractable.' — Joshua Landis, Director, Center for Middle East Studies, University of Oklahoma, and author of SyriaComment.com
'This valuable study usefully combines Ibn Khaldun's theory of cycles of rule, dependent on the changing assabiyeh of the ruling group, with the impact of the security dilemma to explain the causes and consequences of the Alawite community's association with the Assad regime. It benefits from the author's exceptional access to the Alawite heartland to provide a convincing and sympathetic portrait of this community.' — Raymond Hinnebusch, Professor of International Relations and Director of the Centre for Syrian Studies, University of St. Andrews
'A splendid, multi-faceted, and scrupulously fair survey of the Alawite community of Syria — easily the best available in English. Based on courageous, thoroughly professional field work immediately before and amid the outbreak of the street uprising against Bashar al-Assad, Cycle of Fear not only provides an excellent historical background, but also gives a wonderful portrayal of the Alawites at a critical turning point in their modern affairs. The present Syrian crisis cannot be comprehended without understanding the Alawites, who are at once the lifeblood and the prisoners of the Assad regime, which has increasingly taken them for granted. — William Harris, Professor in the Department of Politics, University of Otago and author of Lebanon: A History, 600-2011