The War and the Future w/ Bruno Maçães
19 Nov 2022 – 10:45 - 13:00 CET
Nexus Conference
Dutch National Opera & Ballet
Kollenbergweg 1
Amsterdam
Why is our history scarred by wars? What does it take to end the war? How do we leave the world for future generations and how do we restore our ideal of civilization with its moral values, liberal tradition and humanism as a school? Join our author Bruno Maçães for a panel discussion 'The War and the Future' at this year's Nexus Conference.
About the author
Bruno Maçães holds a doctorate in Political Science from Harvard University. He is a former minister of European affairs in Portugal. In that role he represented his country in Brussels during the eurozone crisis, the first Ukraine war and Brexit. He has published four books since 2018, mostly focused on geopolitics, China, Russia and technology. In 2019 he was a fellow at Renmin University of China. In 2020 he was a senior fellow at the Hudson Institute in Washington DC. Since 2020 he has been a fellow at the Wilfried Martens Centre for European Studies in Brussels. As a risk consultant, he has advised some of the largest companies in the world on geopolitics and technology. His latest book is Geopolitics for the End Time.
About Geopolitics for the End Time
A sharp vision of our changing world order as Covid and climate breakdown usher in a new 'survival of the fittest'.
As we approach catastrophe, everything changes. What are the lessons from the pandemic? How well have different cultures and societies responded, and could this become a turning point in the flow of history?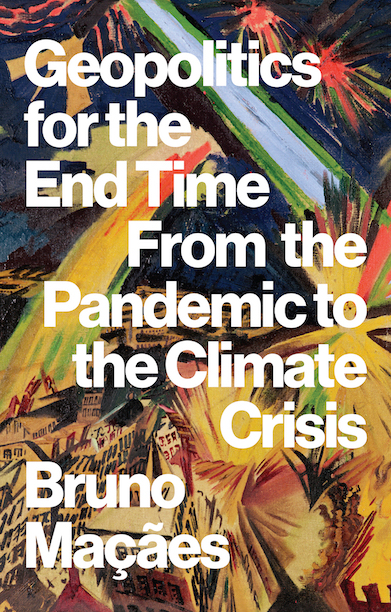 Before Covid, a new competition was already arising between alternative geopolitical models–but the context of this clash wasn't yet clear. What if it takes place on neutral ground? In a state of nature, with few or no political rules, amid quickly evolving chaos? When the greatest threat to national security is no longer other states, but the environment itself, which countries might rise to the top?
This book explores how Covid-19 has already transformed the global system, and how it serves as a prelude to a planet afflicted by climate change. Bruno Maçães is one of the first to see the pandemic as the dawn of a new strategic era, heralding a profoundly changed world-political landscape.
Cover image: Ludwig Meidner, 'Apocalyptic City', 1913. © Ludwig Meidner-Archiv, Jüdisches Museum der Stadt Frankfurt am Main
RSVP