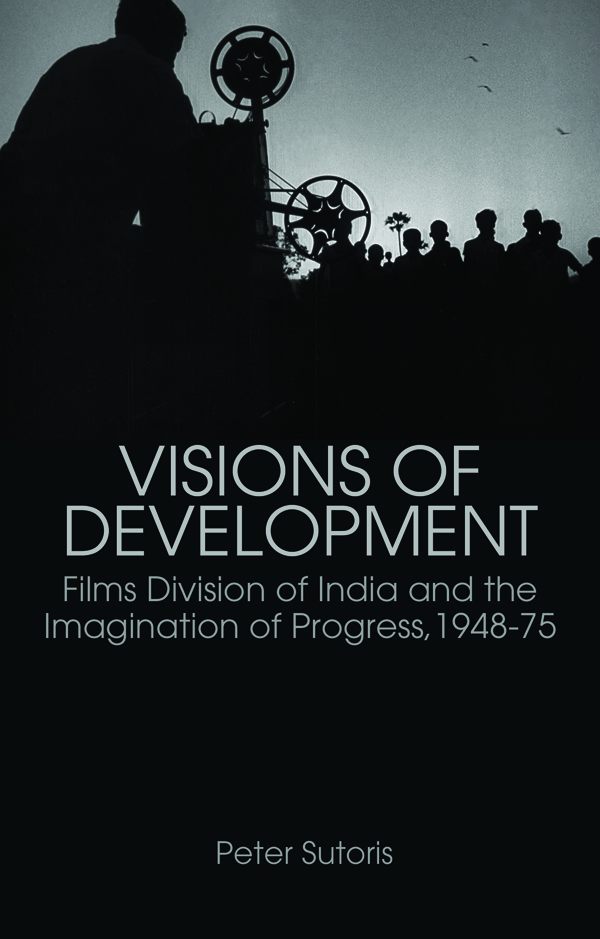 Visions of Development
Films Division of India and the Imagination of Progress, 1948-75
Foreword by Arvind Rajagopal
Film as a medium of social development has a distinguished if little-known history in independent India. This book tells that fascinating story.
Description
Visions of Development examines the Indian state's postcolonial development ideology between Independence in 1947 and the Emergency of 1975-77. Sutoris pioneers a novel methodology for the study of development thought and its cinematic representations, analysing films made by the Films Division of India between 1948 and 1975. By comparing these documentaries to late-colonial films on 'progress', his book highlights continuities with and departures from colonial notions of development in modern India. It is the first scholarly volume to be published on the history of Indian documentary film. Of the approximately 250 documentaries analysed by Peter Sutoris, many of which have never been discussed in the existing literature, most are concerned with economic planning and industrialisation, large dams, family planning, schemes aimed at the integration of tribal peoples (Adivasis) into society, and civic education.
Almost all films analysed in this volume are available for free online viewing through the website of the Films Division. Links are provided on the companion website www.visionsofdevelopment.com.
Reviews
'Through the original prism of film documentaries, this captivating book sheds new light on the continuities and contrasts between economic policies in colonial and independent India.' — Jean Dréze, Honorary Professor, Delhi School of Economics
'This is the definitive book on the documentary films produced by the Films Division of India, and the pioneering role that this organization played in articulating and disseminating understandings of a "new India" in the years after independence. Painstakingly researched, bursting with original and often counter-intuitive insights about the fractured visions of development that emerged from an official state agency in the "high noon" of the developmental state, this pioneering book will be invaluable not just to students of Indian documentary film history, but those interested in wider questions of cultural politics; the aesthetics and politics of developmentalism; and the practices of postcolonial nationalism and state-formation.' — Srirupa Roy, Professor and Chair of State and Democracy, Centre for Modern Indian Studies, University of Göttingen
'Peter Sutoris has written an extremely well researched account of the evolution of the Indian documentary and its role in projecting "Visions of Development" during the Nehruvian and the post-Nehruvian eras of contemporary Indian history.' –– Shyam Benegal
'In this important book, Peter Sutoris provides a richly detailed account and astute analysis of documentary film-making as a feature of India's national development regime during early decades of state planning. Using sources from previously untapped archives and insights from several disciplines, he shows how state programs and programming designed from above on lines inherited from India's imperial past came to include voices from below that would help to propel India's development regime into the age of globalization.' — David Ludden, Professor of History, New York University
'In this engaging book, Peter Sutoris ventures beyond the banalities of factories, tractors and statistics to look upon the dreams contained in the developmental imagination. It is to his credit that, as we share his view from a darkened cinema hall, we can still hear the sound of the projector in the background.' — Benjamin Zachariah, University of Trier, author of Developing India: An Intellectual and Social History
'Sutoris's history of the Films Division of India is a landmark publication, the first meticulously researched book-length study of the subject. Its publication is extremely well timed to meet unprecedented public and scholarly interest in the output of the Films Division. Sutoris's account of the production of government propaganda films proceeds against the backdrop of a very comprehensive analysis of statist developmentalist thought, thus ensuring the book's appeal to historians and political scientists of the post-colony/Third World as well.' — Kaushik Bhaumik, Associate Professor, Cinema Studies, Jawharlal Nehru University, India
Author(s)
Peter Sutoris, born in Slovakia, is a scholar of development, a documentary filmmaker and an educator. He is the director and producer of The Undiscovered Country, a film about education, development and environmental degradation in the Marshall Islands. He has lived and worked in South Asia, the Pacific, the Balkans and South Africa. A History graduate of Dartmouth College, he is currently a PhD candidate and Gates Scholar at the Education Faculty of Cambridge University. His current research focuses on cross-cultural scalability of development interventions, with a focus on environmental education programs.
Request an academic inspection copy
Request a press review copy