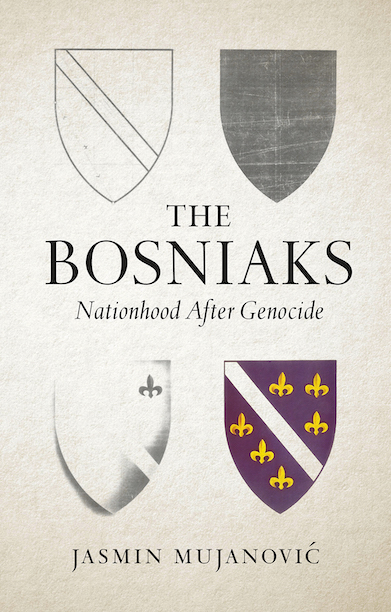 The Bosniaks
Nationhood After Genocide
A compelling exploration of Bosniak political identity, chronicling the development of a nation and its people in the wake of catastrophe.
Description
For the first time in nearly two centuries, one ethnic group now constitutes an absolute majority of Bosnia and Herzegovina's population: the Bosniaks. It is an unlikely development given that, scarcely thirty years ago, they were targeted for extermination and expulsion by Serbia's Slobodan Milošević. Even as the Bosniak community fought to survive these atrocities, it simultaneously came under attack from militants led by Croatian president Franjo Tuđman, who attempted to partition Bosnia and Herzegovina between Zagreb and Belgrade.
Improbably, the Bosniaks and the Bosnian state survived these campaigns. But the country's fractious sectarian post-war order has produced the world's most convoluted constitutional regime, always teetering on the brink of collapse. 
Jasmin Mujanović illuminates the sources of contemporary Bosniak political identity, tracing the evolution of a religious community into a secular nation, and shedding light on the future of a nation at a crossroads. He explores the idea of Bosnia and Herzegovina as a 'national homeland', considers how narratives of genocide influence self-identity, and probes how demographic changes are putting pressure on the country's political framework.
The fate of Bosnia and Herzegovina's peace and democracy rests on the Bosniaks' shoulders—and with it, the stability of all Southeastern Europe.
Reviews
'Mujanović's book is part history, part polemic and part manifesto. As history it fills a niche and as polemic it brings the English-speaking reader up to date with events in Bosnia and Herzegovina. But it is as manifesto that Mujanović comes into his own. It is fine to bemoan that Dayton Bosnia is dysfunctional or to warn that the country is heading inexorably towards a breakdown of one sort or another—but then what is to be done? Few bother to answer that question. Mujanović argues for what he believes would be the best solution for Bosniaks, noting that his ideas would also be in the best interests of Bosnia's Croats and Serbs. Whether anyone is listening of course remains to be seen.' — Tim Judah, Correspondent, The Economist
'This erudite and illuminating book tells the story of the Bosnian genocide's greatest victims, the Bosniaks, tracing history and politics from the distant past to today. I welcome Mujanović's vision, including for "liberalisation" in Bosnia, with the prayer and commitment which we should all have after any genocide: never again.' — Mustafa Akyol, Senior Fellow at the Cato Institute, and author of Reopening Muslim Minds and Islam without Extremes
'A thought-provoking book that traces the evolution of Bosniak political identity from a religious community to a secular nation. Compelling and captivating, it is essential reading for anyone interested in the political landscape of Southeastern Europe.' — Edina Bećirević, Professor in the Faculty of Criminal Justice, Criminology and Security Studies, University of Sarajevo, and co-founder of the Atlantic Initiative
'Eloquently presented and argued, The Bosniaks will set the tone for discussions on Bosnia and Herzegovina and, more broadly, political thought and national movements in the Western Balkans for years to come. A very compelling read.' — Dženeta Karabegović, University of Salzburg, co-editor of Bosnia and Herzegovina's Foreign Policy Since Independence
'Through meticulous research and analysis, this thought-provoking book sheds light on the resilience of a people striving to reclaim their place in a post-conflict world, offering a compelling examination of the enduring impact of genocide and the indomitable human spirit.' — Emir Suljagić, Director of the Srebrenica Memorial Center
Author(s)
Jasmin Mujanović is a political scientist specialising in Southeastern Europe and international affairs, with a broader interest in the politics of post-conflict and post-authoritarian democratisation. He is the author of Hunger and Fury: The Crisis of Democracy in the Balkans and The Bosniaks: Nationhood After Genocide, both published by Hurst. Originally from Sarajevo, he holds a PhD from York University in Canada.
Request an academic inspection copy
Request a press review copy