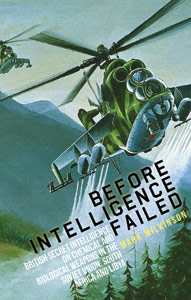 Before Intelligence Failed
British Secret Intelligence on Chemical and Biological Weapons in the Soviet Union, South Africa and Libya
Part of the
Intelligence and Security
series
Description
In the wake of the 2003 Iraq War, the term 'intelligence failure' became synonymous with the Blair Government and how it had used intelligence to construct a case for war. This book examines British secret intelligence over the thirty years preceding its very public failings. From the Soviet Union to South Africa and Libya, Mark Wilkinson provides a detailed analysis and vivid account of the development and functioning of Britain's intelligence agencies in the struggle against the proliferation of chemical and biological weapons. Based on archival research and interviews with key players in the intelligence establishment, he shows how a handful of chemical and biological weapons experts battled to make their voices heard. They had evidence that illegal weapons development was taking place but were continually rebuffed by adversaries in Whitehall. Fascinating, surprising and sometimes shocking, Before Intelligence Failed is a compelling account of what was known about chemical and biological weapons proliferation before the Iraq War.
Table of contents
Introduction: Obsessing on Intelligence
1. Insights into Intelligence
2. Putting it into Context: UK Intelligence and Chemical and Biological Weapons
3. From Refusal to Disbelief: The Soviet Union
4. Playing the Long Game: Challenge and Proof
5. Stranger than Fiction: The Curious Case of South Africa
6. Gas and Gaddafi: Libyan Chemical Weapons Development
7. Before Intelligence Failed: Was Iraq a Watershed?
Reviews
'This is a remarkable book. It peels back successive layers of secrecy to shine a light onto the hidden world of intelligence and weapons of mass destruction. In doing so it reveals fascinating details about the secret world of espionage and the role intelligence plays in underpinning policy. I highly recommend it.' — Michael S. Goodman, Pro-Dean for Innovation and Impact, King's College London and author of Official History of the Joint Intelligence Committee: Volume I: From the Approach of the Second World War to the Suez Crisis
'Mark Wilkinson is a rigorous researcher who has uncovered the history of spying on chemical and biological weapons, one of the most sensitive targets of British secret intelligence.' — Richard J. Aldrich, Professor of International Security, University of Warwick and co-author of The Black Door: Spies, Secret Intelligence and British Prime Ministers
'Drawing on impressive archival research and interviews with intelligence insiders, Mark Wilkinson puts the Iraqi WMD failure into historical perspective. In this highly original book, Wilkinson demonstrates the importance – and frailties – of spying on chemical and biological weapons.' — Rory Cormac, Associate Professor of International Relations, University of Nottingham and co-author of The Black Door: Spies, Secret Intelligence and British Prime Ministers
Author(s)
Mark Wilkinson is an independent consultant specialising in security and risk management. He previously served for sixteen years as a commissioned officer in the British Army, completing his final tour of duty as a bomb disposal officer in Afghanistan in 2010. He has active research interests in terrorism and intelligence.
Request an academic inspection copy
Request a press review copy